Check out these special washers!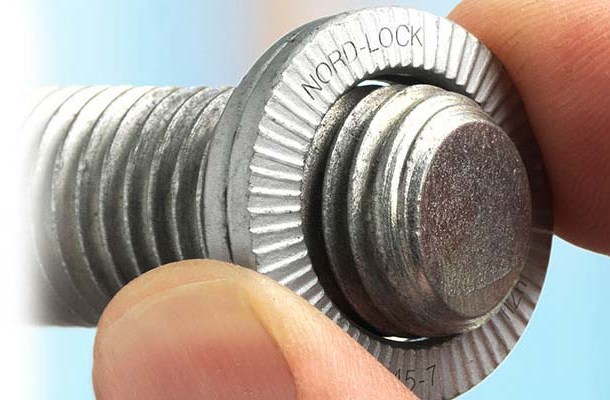 These are the Nord-Lock wedge locking washers.
Sold in pairs and used in pairs. Used like a normal locking washer, placed under the nut or bolt head, they are designed to prevent loosening in critical applications or vibration situations. It's all in the wedges! The pairs of washers cannot loosen until the wedges lift and by-pass. What this means is that they can be undone instantly with a socket or wrench on the nut but are highly resistant to loosening. And, unlike Nylon Lock Nuts they can be re-used.
From the Nord-Lock Website"
"Over their operational lifecycle, Nord- Lock washers give increased operational reliability paired with lower maintenance costs."
Nord-Lock washers are a high quality product, available in all metric sizes, which have proved extremely successful and useful in many industries worldwide and are readily available here at Modern Screws.  Please don't hesitate to contact us:

Telephone: 01322 553224
Email: Sales@Modern-Screws.co.uk
Or visit our website at: www.modern-screws.co.uk
Direct link to the Nord-Lock washers:
Nord-Lock washers at Modern Screws


(Note: Metal part is not required for use and is a display piece only)